11.22.07 - Lots of catching up ... RRIICCEE TOUR 2007





Vincent has joined up with Eric Erlandson, Rebecca Casabian and Nikolas Haas to form RRIICCEE which are embarking on a tour across North America starting December 2 in Tucson, Arizona. The band and their mission was explained by Vincent in recent press interviews which you can read up on here:

Pollstar

Filter Magazine online

Pitchfork

Tickets are selling fast for this rare opportunity - be sure to check the official tour dates and ticket links at RRIICCEE.com for info and sales.

05.01.07 - Vincent Gallo to perform live with new band RRIICCEE:

For the second year running Vincent will play the Mission Creek Music Festival in
San Francisco, CA on May 19. He's performing with new bandmates Eric Erlandson (Hole), and Cory Lee Granet on guitar (The Warlocks). They will make their live debut on stage at the Mission Creek Music Festival. Ticket info can be found here. You can find a great article and interview with Gallo about the band and upcoming show here.

02.01.06 - Vincent Gallo to perform live with Yoko Ono, Sean Lennon:

A birthday bash for Yoko Ono coming in just weeks to Paris, France ...
Here are a couple news stories on the forthcoming event as well as some
ticket information:

YOKO AND SEAN STAGE MULTI-MEDIA PERFORMANCE
ContactMusic News Story

Yoko Ono-son plan Paris birthday show
The Story in Gulf Daily, Bahrain

For ticketing info:
http://www.chatelet-theatre.com/

To find the Yoko special event entry:
click on SPECTACLES > PROGRAMMES > AUTRES > Plein Jeur - Yoko Ono

Reservation info (in French only):
Chatalet Theatre


02.01.06 - TimFest: Rio de Jinero, Brazil Live Oct. 21, 2005 Pics





... some great pics - don't know who took them originally, but certainly some of the
finer LIVE pics shot of Vincent to date i think.













01.07.06 - HAPPY NEW YEAR !!! FILMINK article ...

OK, in case anyone missed it the article which appeared in the Oz Magazine mentioned earlier is here for you to review online HERE. This is posted with permission of the magazine, but if you want any clearer quality or resolution you will have to find the magazine and scan yourself. I asked for something bigger but they intentionally made it screen-only resolution. It's still possible to read ... enjoy.


12.11.05 - FILMINK MAGAZINE (Australian Film magazine interviews Gallo)

Australian movie magazine FILMINK has a small article on VINCENT GALLO in the latest issue, which
hit stands on December 15th. Find them online at www.filmink.com.au . T he actual magazine is available
for sale in Australia and New Zealand from the 15th of each month. Outside of Australia, it can also be
purchased online or by contacting the lovely Dina at dina@filmink.com.au. The article delves further into
Gallo's thoughts and feelings on the Brown Bunny film and it's place in the mix among cinema greats.
The article also mentions the connection between "WHEN" Lp anf THE BROWN BUNNY.






11.01.05 - Seed for Sale

Just in case you missed it, the now removed eBay listing. Did Gallo himself post it???
- you decide.

10.10.05 - ONE UPDATE TO RULE THEM ALL ... sorry for the long delay, yeah yeah ... no excuses. Anyway, you will find the following should
pretty much cover the last year's worth of news and updates. ENJOY!

08.17.05 - Vincent Gallo plays KOKO - London, UK




(click to enlarge)

A great show by all accounts. Some great pics and a nice little video clip of Gallo speaking
to the captivated audience as setup to new song played live since last year appear below.

Here's a great shot by Adam Walsh (thanks Adam!):




Gallo Live @ Koko London

... and several great shots courtesy of another kind friend of VG-DIB, Kieren Clayton who also
(I believe) contributed this pretty neat video clip (thanks!) "Teresa" (QT mov):

















08.21.05 - Vincent Gallo at the Paradiso, Amsterdam, Holland

Vincent's mini "Everywhere But Western USA ..." (ok, i'm bitter) tour continues with a Dutch
stop ... my main man Ray Stolp dropped some knowledge on this event for the curious: Show review by Ray Stolp

and a couple GREAT pics here also from Ray ...







04.22-24.05 - Vincent Gallo live at ATP FESTIVAL - Camber Sands, UK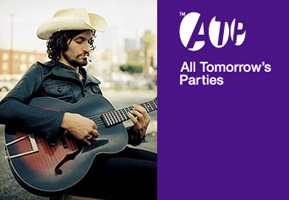 VISIT THE ATP SITE

Vincent chose the following bands for the ATP 2005 lineup that he curated:

THE (JON SPENCER) BLUES EXPLOSION »
OLIVIA TREMOR CONTROL »
JAMES CHANCE AND THE CONTORTIONS »
PREFUSE 73 »
BUCK 65 »
LYDIA LUNCH »
JAYNE COUNTY »
MAGIK MARKERS »
AFRIRAMPO »
WOMEN AND CHILDREN »
THE TINTS »
SUICIDE »
JOHN FOXX »
TED CURSON »
PEACHES »
TRAPIST »
NIKOLAI HAAS »
GANG GANG DANCE »
AUTOLUX »
THE ZOMBIES »
POLLY JEAN HARVEY (SOLO) »
JOHN FRUSCIANTE »
VINCENT GALLO »
- Vincent Gallo also DJ under the guise 'Fuck Sanctuary Records aka Vincent Gallo too
"http://www.atpfestival.com/events/news.php?event=16&view=232
SEAN LENNON »
DJ ELLEN ALLIEN »
LESLIE WINER »
YOKO ONO »
MERZBOW »
THREAD PULLS »
I AM KLOOT »
VITAMIN B-12 »
KID KOALA »
YUKA HONDA (CIBO MATTO) »
MONEY MARK »
+ THE UK PREMIERE OF THE BROWN BUNNY AT ATP
AND SCREENINGS OF SOME OF HIS UNRELEASED SHORT FILMS
"ATP chose the always-controversial raconteur as a curator because of his vast record collection and extensive music knowledge.
Says festival director Barry Hogan, "His musical taste is evident in places on 'When', which to me is a very underrated album. I
knew Gallo would be able to deliver a lineup that would reflect his record collection and take ATP to new directions that will keep the
festival as fresh as ever."

SOME PICS FROM THE SHOW: Gallo performs with Sean Lennon, Yoko Ono and John Frusciante









04.05.04 - Few more photos surfaced from the Royal Festival Hall show - London, UK